HAZMAT MODINE
AT THE 10th ANNUAL
NY GYPSY FESTIVAL!!!
FRIDAY, OCTOBER 17th at 8:00
at

85 Avenue A between 5th and 6th, New York City NY 10009 212 777 1157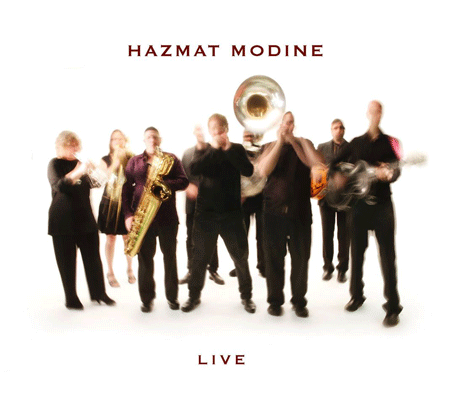 Hazmat Modine
LIVE
An hour of  music -
8 live tracks made over the last 10 years in 5 countries. 
Includes Hazmat classics: Bahamut, Everybody Loves You, Walking Stick, So Glad, and The Tide plus three tunes only performed live: Something You Got, Baby Please Don't Go, and Catfish Blues. With Extra Special Guests, Steve Baker, Huun-Huur-Tu, and Jim Campilongo.

CICADA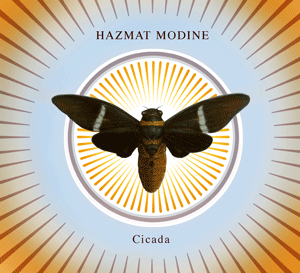 13 tracks with a 24 page booklet
with special guest appearances by
Natalie Merchant, Kronos Quartet,
and Gangbé Brass Band

on Jaro records in Europe,
and Barbès records in the U.S. and Canada
---
For more videos go to the

For past, present and future live shows
please see tours

One of New York's most original bands, HAZMAT MODINE delivers a rustic, deliriously Dionysian blend of whorehouse Blues, Reggae, Klezmer, Country and Gypsy-tinged music. The band features the harmonicas of front-man Wade Schuman with funky tuba powerhouse Joseph Daley, guitarists Michael Gomez and Pete Smith, trumpeter Pam Fleming and a very special guests. HAZMAT holds down a smoldering groove behind Schuman's raspy, bluesy voice and passionately energetic stage presence. (Schuman is one of the most dynamic performers on the New York scene). Their playful blend of genres also extends to their use of instrumentation, including the sheng (the ancient Chinese mouth organ), the unique and odd claviola, and sometimes the cimbalom (the Romanian hammered dulcimer). While they play mostly originals, their cover versions are choice and eclectic, including songs by Slim Gaillard, Jimmy Rogers, Jaybird Coleman, and Irving Berlin. Their live show frequently features guest artists from the creme de la creme of the New York music scene, including cult-favorite singer/accordionist Rachelle Garniez, Moonlighters steel guitarist extraordinaire Henry Bogdan and the great cimbalom player Alex Federiouk. With their sly musical wit, expert musicianship and completely unique sound, HAZMAT MODINE has built a wide and devoted following, drawing crowds to shows at venues as diverse as the Knitting Factory, Terra Blues, the Fez and Galapagos Art Space." ~ Alan Young, Trifecta, NYC